PEZENAS
Pezenas is a town in the Languedoc-Roussillon region. It was once of extreme importance to the Roman Empire, as well as to the French Kings because of its strategic location. In fact, Pezenas was the seat of government for french Princes who were not going to inherit the throne. The charm of Pezenas lies in its preservation and mix of architecture. You will find intact Medieval streets and houses, as well as gorgeous Renaissance buildings that look as if the years have not passed. Additionally, you can find 17th century architecture that will remind you of the opulence of the Old Regime. You will even find the harsh history of the Jewish Ghettos in France. Don't wait any longer, and add this wonderful town to your bucket list. Rent a villa close to it, so that you can enjoy it while simultaneously having your own luxurious space. To help you along with the planning, here are the top things to do in Pezenas: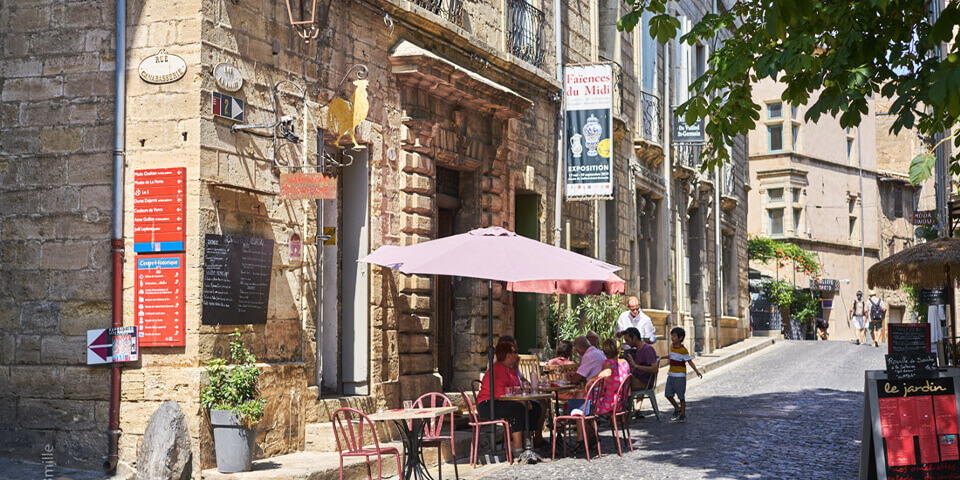 SHOP AT THE PEZENAS MARKET
Not many things are better than shopping at a fresh food market in a provincial town. Keeping up with tradition and the highest of standards, all the products you find are delicious and locally grown. Support the economy of the Languedoc-Roussillon region, and find delicious vegetables, meats, and fruits, grown by the same people who sell them to you.
DO A WINE TOUR AT SEIGNEURIE DE PEYRAT
A castle, a cave, and a vineyard welcome you to taste the products of the region. At Seigneurie de Peyrat, the quality of the wine is irreproachable, as are the scenic walks around the grounds. Not only will you get to enjoy local wines, but you will also be able to witness a view of the vineyards and landscapes that surround Pezenas.
PAY RESPECTS AT THE JEWISH GHETTO
Most ghettos were dismantled after the end of World War II. Pezenas, however, chose to preserve its ghetto as a reminder of a past that the country, and the world, will hopefully never repeat. The ghetto is one of the most intact ones in the country, as it still has its original bars and wires.
SEE A SHOW AT THE L'ILLUSTRÉ THEATRE
Celebrate art while having fun at the L'Illustré Theatre. You will be able to catch great classic and contemporary plays, performed by experienced troupes. Besides the plays, you can enjoy the joyful atmosphere of the theatre, which invites everyone to drink up, laugh out loud, and have the time of their lives.
VISIT THE MUSEUM DOORS
Though the concept of a door museum may sound weird, this one is curated in such an ingenious manner, it is absolutely engaging. The museum takes you into several underground chambers where you not only learn about the process of making a door, but about their history as well. Explore the styles of different periods, and recognize doors that you have seen and will continue to see throughout the country.