Conferences
 Are you organising a conference and looking for a luxury villa or chateau to rent in France to impress attendees? Make sure to pick the very best venue to set the tone of your conference.
There are several things to consider when looking for ideal conference space. Location, size, and atmosphere are among the most important.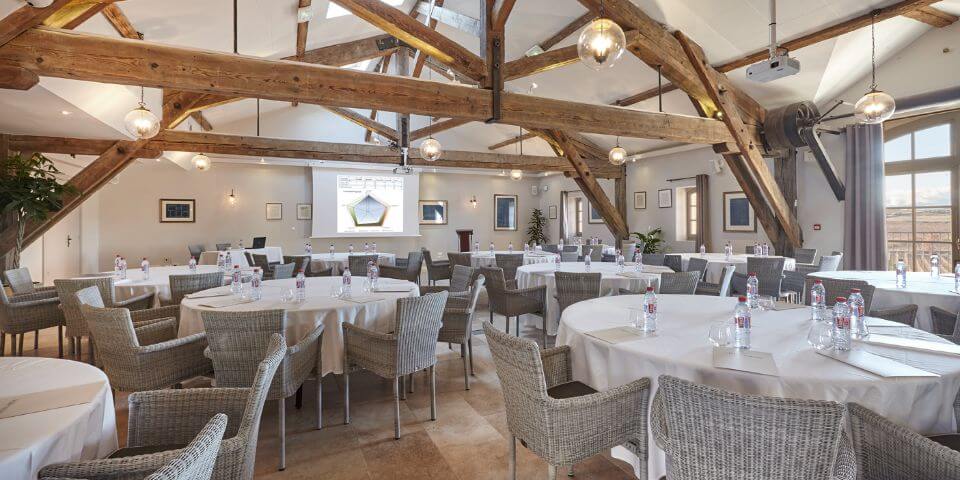 How to choose the best conference venue?
Conferences need to be accessible, with an international airport nearby if looking to attract an international crowd. Though city centres tend to be more convenient, a remote location, such as a luxury chateau in France, can be an original and attractive option, with the added bonus of outdoor spaces. In that case, offering pick up from the nearest airport or train station is recommended.
Size is a key factor
Conferences typically welcome a large number of persons who will be attending talks, taking part in workshops, and networking. Size is therefore one of the key factors when choosing a venue for a business conference. The space must have generous proportions and allow for easy movement of large groups.
The best events deserve exclusive venues
 Another key point to consider is the look and feel of your event's setting. While traditional conference centers have large capacities, they tend to be rather uninspiring environments. Renting a luxury villa, however, is a fantastic way to add flair and elegance to your event, and send a strong message to potential attendees.
Get more people interested
Within a striking setting, speakers and delegates are much more likely to take pictures of their surroundings and share them on social media. Choosing a breathtaking location like a French chateau with stunning views and relaxing outdoor spaces would therefore result in more free coverage online, helping you generate buzz around your conference and get more people interested.
DOWNLOAD THE GUIDE
Do you need help planning your conference? We've created a free guide with a convenient checklist to help you design an unforgettable event.
Check out our tips to stay on top of everything!
Fill out the form below and have your checklist sent to you
Attract the best speakers and delegates with a luxury conference venue
When organizing a conference, the right venue can be a great asset to help you attract the most in-demand speakers in the field, as well as premium delegates that will contribute to the quality of your event.
The venue is also an integral part of your communication: pictures will be displayed on your website and social media before, during, and after the conference. An original, dazzling location can be a strong selling point to help you attract expert speakers as well as capture the interest of delegates looking for more than just strengthening their skills.
 Renting a castle in Southern France means you can offer luxury accommodation to your speakers, giving them yet another reason to come to your event. And because we have insider knowledge of the area and a large portfolio of properties, we can also help you curate a list of accommodations for delegates looking for a place to stay.
Premium conference venues in the South of France
Petit Chateau can help you plan and organize a successful conference at an outstanding location without spending most of your time finding the best venue.
Tell us about your needs and we'll handle all the planning. We specialize in luxury villas and chateaux in the South of France, and all our properties boast gorgeous views and first-class amenities. We offer a selection of splendid castles that can welcome hundreds of guests for talks and workshops and are conveniently located near a Nice international airport. Our properties all have ample outdoor spaces and swimming pools for networking and relaxing at the end of the day.
Take the first step by contacting us, and let us take care of the rest.